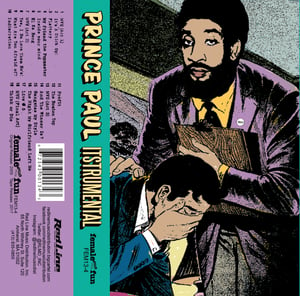 $

11.99
PRINCE PAUL "ITSTRUMENTAL"
Limited Edition 'Goldenrod' colored Cassette
100 piece pressing!
Shipping now:
September 7, 2017
Artist: Prince Paul
Title: Itstrumental
Label: Female Fun Records
Catalog#: FEM013-4
Configuration: Chrome Cassette
Price: $11.99
File Under: Hip Hop/Instrumental
Track Listing
SIDE A
1. MVU - (Act 1) 0:52
2. It's A Stick Up 2:41
3. Flattery Co-producer – Steinski 2:47
4. My Friend The Popmaster 4:10
5. Inside Your Mind
Feat. MC Paul Barman & Mr. Dead 3:04
6. El Ka Bong 1:25
7. MVU - (Act 2) 0:50
8. Yes, I Do Love Them Ho's! 3:46
9. What Are You Afraid Of? 2:27
10. Indiscretion 3:30 (Unreleased)
SIDE B
11. Profit 2:20
12. The Boston Top Feat. Newkirk & Mr. Dead 3:14
13. MVU - (Act 3) 0:36
14. And The Winner Is? 3:26
15. Gangsta's My Style 2:20
16. The Night My Girlfriend Left Me
Featuring MC Paul Barman 4:10
17. Live @ 5 2:30
18. MVU - (Final Act) 1:21
19. Think Or Die 1:40
- Exclusive Limited Edition Reissue to the long-out-of-print 2005 album "Itstrumental"
- Unheard, exclusive song "Indiscretion" not included on the original release
- 1st time limited Cassette pressing
- Revised and updated artwork from the original designer/visual artist Ray Johnson
- Featuring: Steinski, MC Paul Barman, Newkirk, Mr. Dead
- First release on Female Fun Records in over 10 years - project collaboration between label-head Peter Agoston and Prince Paul.
For the first time Prince Paul's cult-classic 2005 album Itstrumental is seeing a proper commercial reissue on the original imprint of release Female Fun Records. This also marks Female Fun's first release in over a decade. (Original street-date May 10th, 2005).
The sample-driven collage-project distinctive to only how Prince Paul can do - was met with both critical acclaim and retail success upon original release. In the vein of of Prince Paul's solo debut Psychoanalysis (What Is It ?) the follow-up Itstrumental melded an array of guest vocalists/appearances over the devastating Prince Paul's undeniably great instrumentals/beats.
To refresh collectors memories, what made Itstrumental so unique is that it's songs were culled specifically by Paul from an assortment of analog samplers used throughout the course of his career. Dating back to the 1980's through the early 2000's - which means otherwise unused compositions and tracks from the days of Stetsasonic, De La Soul, Gravediggaz, Prince Upon Thieves, and more. It's a virtual catalog of beat-making techniques sewn together in classic concept album style.