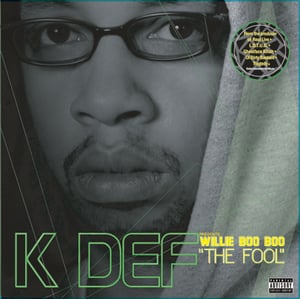 $

7.99 - On Sale
LIMITED EDITION FULL LENGTH VINYL LP
CURRENTLY OUT OF PRINT - LIMITED QUANTITIES AVAILABLE
Label: Ghetto Man Beats
Catalog#: GMB-1121
UPC Barcode: 6-72343-11211-7
Track Listing
A Side
1. INTRO
2. DOING IT
3. UNDER THE MOON
4. YEAH DEF
5. SKIT (BUY THIS)
6. EVERYBODY WANNA BE
7. IKE REPLAY
8. AXELS REPLAY
9. PORTER ATTACK
10. GALT IS LOOSE
11.THE GODFATHER
12. SKIT LUDE
13.HAVE A CLUE
B Side
14. FAT AL AND DEF
15. THE SANFRANCISCO
MANIAC
16. HORN EXPERIENCE
17. FAREWELL JACK
18. SKIT NIGGAZ
19. THE WITCH
20. I'M THE KING
21. OOHHH WE MAN
22. MUST BE THE VIBES
23. ACTION THEME
24. SHORT EYED REPLAY
25.THE OUTRO

DJ/Producer K-Def brings you his first instrumental album entitled Willie Boo Boo "The Fool". A tour-de-force in hip-hop production, there are no rappers just the beats. "The Fool" features K-Def Hip Hop instrumentals infused with Blues, Soul, Jazz and Funk interwoven with creative skits and interludes. Over one hour of classic, never heard before K-Def original top notch productions seamlessly blended together for your listening pleasure. "The Fool" is also available on CD.